Producer/Owner: Linda Weiner


Linda Weiner is a claircognizant and empathic psychic and energy healer
with lifetimes of experience assisting others to achieve health, happiness
and inner peace.

She uses her intuitive and healing abilities as an Intuitive Counselor and Transformational Life Coach, Psychic Energy Healer, Past Life Regression Therapist and Reiki Master Teacher.

Linda teaches many metaphysical classes in addition to Reiki, including
topics such as How To Raise Your Frequency and DNA Activation and The Art of Ascension.
She also offers High Frequency Crystal Resonance Healing Sessions in Pueblo.

Following spiritual Guidance, Linda moved to Pueblo from the Boston area in 1997.
​As she became involved with Pueblo's community, she realized the need for a gathering
place for the metaphysical community to come together and to also offer a welcome for
those who are looking to connect with friends of like mind. With this goal in mind,
Linda began Pueblo Light Connection in 2005, and the group has grown to
​more than 1,500 enlightened BEings.

As Director of Pueblo Light Connection, Linda holds free monthly meetings with presentations and conversations circles. She offers an extensive website, a Facebook Group and offers email newsletters with information on upcoming events. Pueblo Light Connection is a fabulous way to stay connected with our metaphysical family.

Linda is also the Editor of the Pueblo Holistic Directory ~ a publication that has reached thousands of people
in booklet form and is available on Pueblo Light Connection's website ~ www.PuebloLightConnection.com

All of Linda's activities are created with Love and the intention of serving to raise the consciousness of our community
and to offer each individual an opportunity to explore and grow on their spiritual path with self-awareness and JOY!
---
Join the Pueblo Light Connection group on Facebook to stay connected with our community.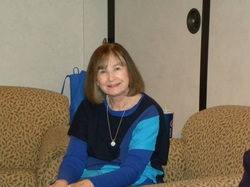 ​ In Memory of Temara Speaks

Her Light continues to shine.





---