PUEBLO HOLISTIC FAIR
MAY 19 & 20, 2018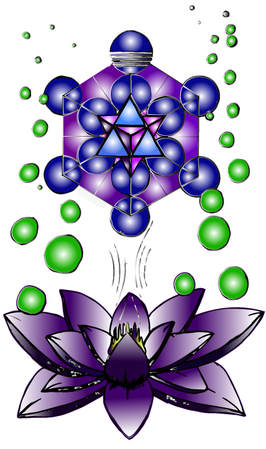 The Pueblo Holistic Fair takes place at Pueblo Community College.
We offer ample space for our participants and visitors with 80 booths
on 2 floors throughout the entire Student Center Building.
Please refer to the 2-page floor plan below for layout.

TO APPLY TO PARTICIPATE IN THE PUEBLO HOLISTIC FAIR ~
Please contact the Fair's Producer, Linda Weiner with your request to participate.

CONTACT INFORMATION
Email: Linda@PuebloLightConnection.com
Text to: 719-251-0266
Facebook Message: Linda Weiner

Please include the following information with your inquiry ~
~ Where you learned of our excellent Fair
~ Your specialty ... What would you like to offer at the Fair?
~ Your website and other pertinent information
​~ Your questions




---
​ FIRST FLOOR
Booths 1 through 30 are available for Healers, Vendors and Information.
Booths 2 through 11 and 14 through 22 are 9x9.

Booth 1 is 6x15
Booth 12 is 8x12
Booth 26 is 10x10 Corner
Booth 27 is 10x10 along window
Booth 28 is 10x13 along window
Booth 29 is 10x13
Booth 30 is pie shaped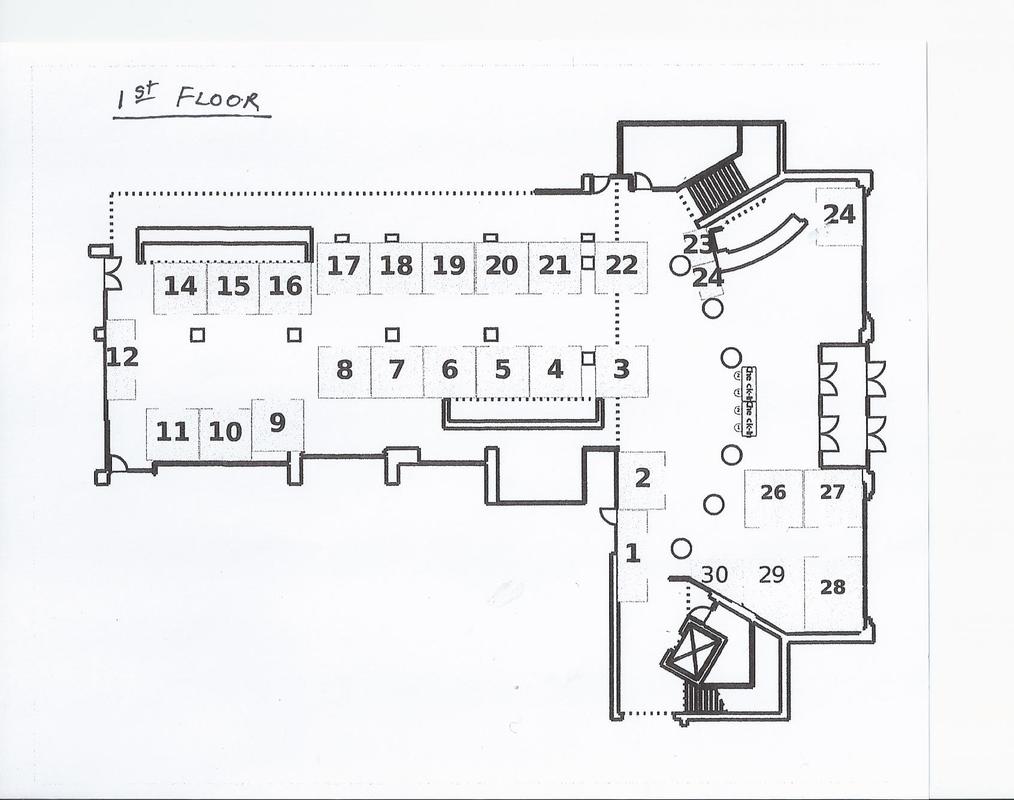 ---


SECOND FLOOR
Booths 31 through 73 are in the Ballroom
Booths 76 through 89 are in the Go Zone Hallway

Booths 33 through 50 are 8x7 and for Psychic Readers Readers Only
Booths 58 through 73 are 8x10. Some are corner booths with 2 open sides, and the others are center aisle with one open side.
Booths 51 through 56 are various sizes along the wall. Please inquire for details.

Booths 76 through 89 are in the brightly lit Go Zone Hall and offer various sizes, included smaller booths.
​
The Ballroom Entry is in lower left corner of floor plan.
All other doors will remain closed during the event.

WORKSHOPS are now held in the private room to the left of the ballroom on the floor plan.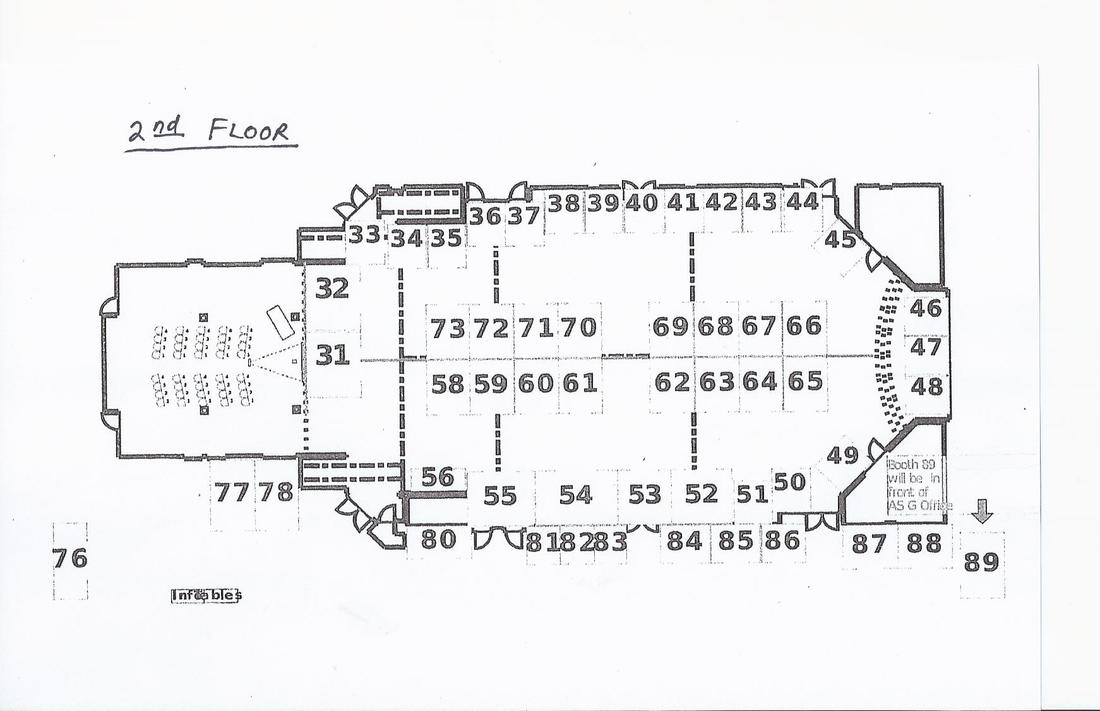 GUIDELINES FOR PARTICIPANTS
Must be present for the entire event... all day on both days.
You may not sublet your booth or add friends to your booth. All participants must be approved by the Producer.
May not offer medical advice or diagnosis unless legally qualified to do so; and
May not give dire predictions such as impending death, hardships or situations that may cause emotional trauma.
Charges for sessions are at your discretion and shall be clearly posted at your booth.
Participants are responsible for any damages that may occur to their space.
The burning of
sage, incense
and
scented candles
are
NOT allowed
. Essential Oils are allowed.
NO DOGS...
. PLEASE... Do
NOT
bring your dog.
BOOTH DETAILS Large Booths:
Refer to floor plan for 8x10, 9x9 or larger spaces.
Contact Linda for size, fee and availability.
Reader's Booths
are 8x7
Readers bring your own card table.
Tables:
6 x 2.5 foot tables are available for $10 each in large booths only.
Intuitive Readers bring their own card table.
Note your table order on the Registration Form.
Chairs:
Are provided at no charge.
3 Chairs in Reader Booths.
2 Chairs in all other booths.
You may request additional chairs on your registration form.
Electricity
is available upon request @ $10. Note this on your registration form. Please leave extension cords at the college when you pack your belongings on Sunday.
There are no dividers between booths. We do not use pipe and draping, allowing each booth to be unique and flow!
​
Bring your own
booth décor
, including table cloths.
SET UP HOURS
Please check in at the entrance for guidance on the best route to bring your items to your booth.
You must be paid in full to set up.
FRIDAY
:
1st Floor: Booths 1 through 30 may set up between 6PM and 11 PM
2nd Floor: Booths 31 through 90 may set up between 3PM and 11PM
Please do not arrive early, as you will have to wait until set up time.
SATURDAY
: All booths may finish set up between 8:00 and 9:30 AM
PUBLIC HOURS
Saturday: 10 AM to 6 PM
Sunday: 10 AM to 5 PM
SHARING EVENTS ON FACEBOOK:
Sharing on Facebook is greatly appreciated.
HOWEVER
: Please only share the Fair's official event.
You will find our event on the Facebook Groups: Pueblo Holistic Fair and also on Pueblo Light Connection.
We have had situations where people create their own event and have listed the wrong location, the wrong times, etc.
Please only share the Fair's official event, with the correct information and the appropriate logo.
WORKSHOPS
If you would like to offer a 45-minute presentation during the Fair, email your request with suggested topic to:
Linda@PuebloLightConnection.com
ADVERTISING OPPORTUNITIES:
BUSINESS CARD ADS in Door Program
We distribute 1,000 copies of our door program and post a copy on our website for 6 months.
Participants may display their full color business card advertisement in the program for $35.
Simply include a business card with your registration form or Email a copy to
Linda@PuebloLightConnection.com
INFORMATION TABLES
are available to display your business cards and flyers.
This is offered for free to all participants. Other individuals may display their information for a $20 fee.
PUEBLO HOLISTIC DIRECTORY
Offers a booklet Guide as well as an online version
Email Linda@PuebloLightConnection.com
to be included in our next popular Directory.
PRE-REGISTRATION FOR NEXT EVENT
Visit the Producer's Booth at any time during the Fair to reserve your booth for our next event with a non-refundable deposit of $25.
To stay updated about upcoming events, feel free to join the
Facebook Groups: Pueblo Holistic Fair
and
Pueblo Light Connection
for news and updates about the Fair and our other community events.